What to Expect
Marley's Mission employs a team approach to healing children who have experienced trauma. The Treatment Team consists of a specially trained Trauma Therapist and an Equine Specialist. The Treatment Team has been educated in an internationally recognized Equine-Assisted Therapy Model (EAP) developed by the Equine Assisted Growth and Learning Association (EAGALA).
Marley's Mission does not require children to ride or have previous experience with horses. The focus of Marley's Mission is to assist in healing. Marley's Mission does not teach traditional horsemanship nor does it provide recreational horse riding lessons.
Marley's Mission is focused on what is referred to in the clinical field as the "groundwork". With the guidance of the Equine Specialist, the child engages with the horses in one of the three riding areas located on the Marley's Mission property. With the assistance of the Treatment Team, the child learns an alternative way of expressing his or her feelings. This model encourages the child to engage with the Trauma Therapist in a less-clinical environment and allows the child to "project" his or her thoughts and concerns through the actions and cues of the horse. As a result of this process, the child is able to break down barriers, learn to trust, and develop personal confidence.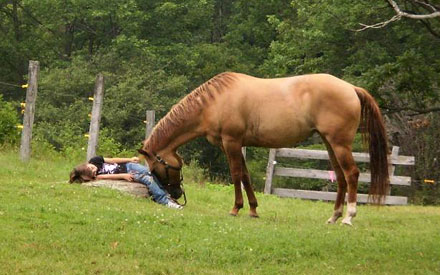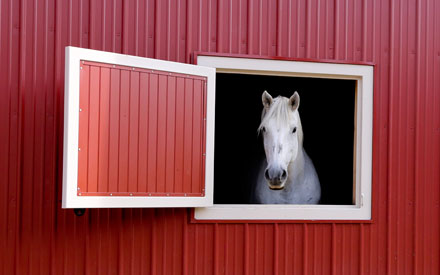 This EAP Model is combined with Cognitive Behavioral Therapy (CBT) and Therapeutic Play Therapy.
By providing these child victims with a less-threatening and non-clinical therapeutic environment, the hypothesis follows that EAP is grounded in the premise that it is easier for a child to "project" his/her feelings on an animal and the child's self-esteem is buoyed by the animal's faculty for supplying the child's need for companionship and unconditional acceptance (Levinson, 1969; Karol, 2007). Thus, it provides an effective treatment modality for children who have experienced trauma.
The use of EAP with children has a variety of beneficial results – mostly resulting from the relationship with a horse (Tucker, 1997). Children will translate caring for the animal into caring for self (Williams, 2004). Conversation and socialization are stimulated as is self-esteem, loyalty, trust and respect (Roeth, 2004). When a horse responds to a child's request while being led or ridden, the horse subordinates power to the child and the therapist can observe, comment and instruct the child based upon the therapist's observations (Roeth, 2004).
Please click here to learn more about what clients can expect at Marley's Mission and for a list of Frequently Asked Questions.